Hey, doing sweet and intimate things with a partner is taking your relationship one step forward and living a happy life.
You know that a relationship is always challenging, so when you find a chance to feel closer to your partner, you want to jump on the opportunity.
And you definitely do not miss the small acts in your life that can take you a little closer to your partner.
With the pressure of work, family, relatives, and friends, relationships tend to fall to the bottom of your priority list.
So, we give you a bonus that adds some spicy to your relationship to make the spark alive again.
You just add these 30 beautiful and intimate things to your routine. It may not sound traditionally exciting but their results sound amazing.
30 Intimate things to do with your partner.
Everyone thinks that intimacy means romance but intimacy is not all about the physical. But this is wrong.
There are many different types of intimacy in a relationship and play a vital role to keep our bonding stronger.
So doing intimate things with your partner is a way you connect with her or him deeply, and bring your partner closer to you both physically, emotionally, and spiritually.
When you have a boyfriend you always try to be a better girlfriend and it's natural because everyone wants to be a good partner for their soulmate.
But the important thing for you is that you connect with your partner on all these levels to build a stronger and healthier bonding and strengthen your relationship.
And this, in turn, builds these three significant things that are the basis of a successful relationship i.e. trust, loyalty, and effort.
Unfortunately, some people never know how to be more intimate with their partner outside of seductive acts.
If you are one of those who struggle with intimacy problems in your relationship then you can use these things in your daily life and enjoy your relationship life.
Intimate things to do with your partner.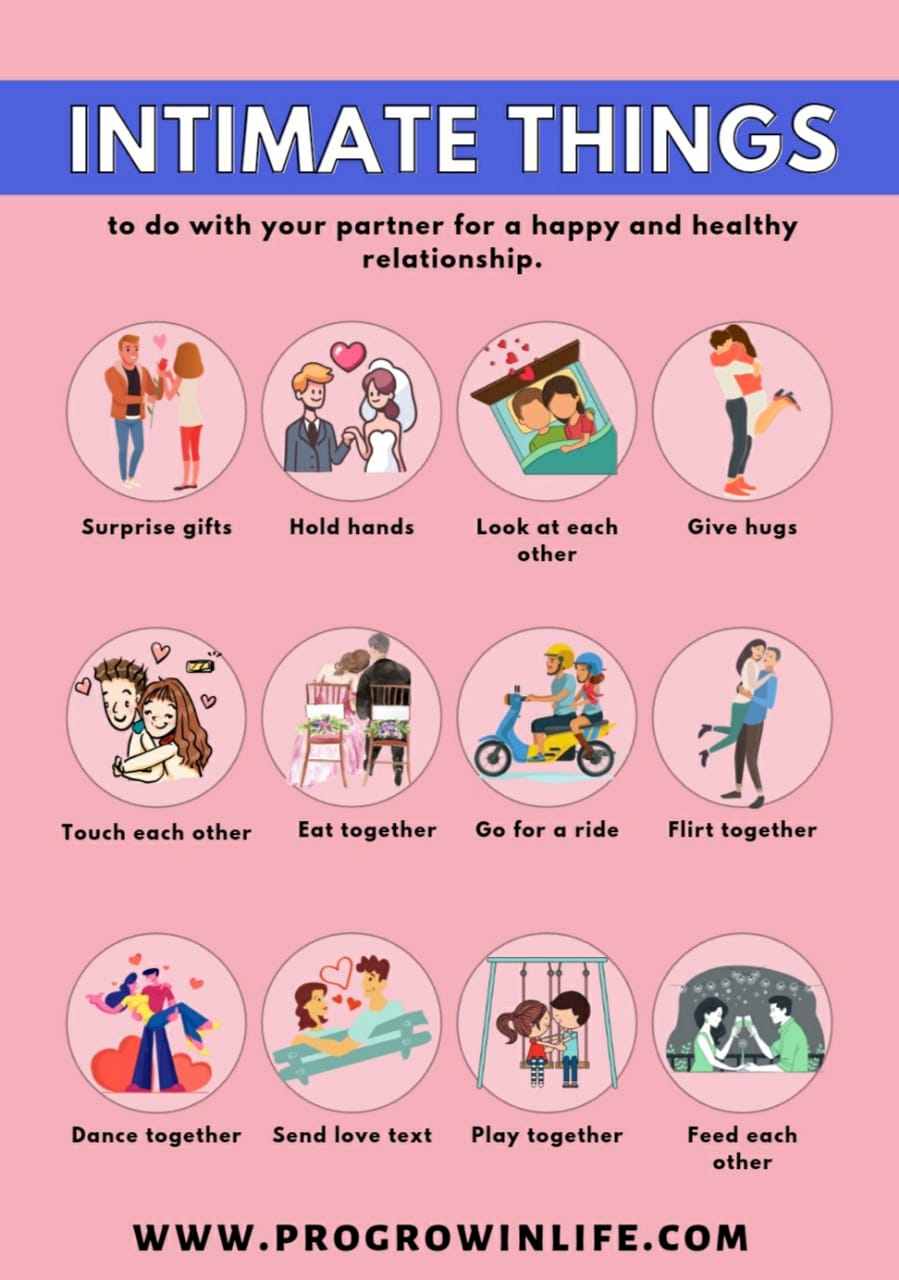 1. Give sweet touches to your partner.
Touches have the power to make a person calm and soft. If you give your partner sweet touches, especially in bed then your partner feels romantic and comes closer to you.
These are the first easy intimate things you can try in your daily life and look at the changes.
2. Hold your partner's hand.
If you go for a walk or outside of the home for any reason with your partner then it's so cool to hold your partner's hand and walk on the road.
Or sometimes you just put your hand on her shoulder and make her feel safe and secure is just an amazing thing to do. These are the great intimate things you can do.
Related Reading: 15 sure-shot signs of a healthy marriage.
3. Sometimes cook together.
Some people like to cook, they may be a man or woman. But cooking your favorite dishes together is the best way to spend time with each other.
These are not hard work but simple and intimate things you do both for helping each other.
4. And feed your partner.
It is not necessary to feed your partner always but sometimes you just feed her or him because sharing means caring.
If you feed your partner it ultimately increases your love and affection. So these intimate things are not difficult for you. Try it.
5. Undress each other in bed.
Undressing each other means you both want to have intimate physically. And it gives a hint to your partner that what they want from you exactly wants the same.
So these exciting and intimate things make your physical intimacy charming and exciting.
6. Sit near your partner.
Nowadays, everyone is busy in their life but you make an effort to be near your partner. Both inside and outside of your home always try to sit next to your partner.
For example, you both join a group feast, you sit across from each other and enjoy your together time.
7. You both have fun together.
Spending some fun time with your partner and laughing together is the best moment for both.
It clearly indicates that you both like to spend some time with each other. And these are the most common type of intimate things you can add to your daily routine.
8. Send romantic messages.
Commonly, the whole day you both stay away from each other because of your job or work. But it is necessary to connect with each other.
So sending romantic and sweet messages to your mate increases your connection. And remind them that you miss them so much.
9. Discuss your future together.
Talking to your partner about your goal or ambitions is easy for the couple who feels comfortable with their soulmate.
So starting to discuss the future of your relationship or family planning is a great and intimate thing.
Related Reading: 16 easy ways to communicate better with your spouse.
10. Send your selfies.
When you both are apart from each other you just send your selfies with pictures of activities you do to make your partner smile and be happy.
From time to time you just send them and added some miss you and love you messages.
11. Sometimes dance together.
You don't know how to dance perfectly. But it's not a matter. You never dance for a program or show. Just play music on your phone and dance together.
These funny and intimate things increase romance and intimacy between the two.
12. Watch movies together.
In the evening time or during holidays you both are together. So do some mutual work. If your partner watches a movie then you join them and enjoy the movie.
We are sure that you both never know how much time you are watching a movie.
13. Sometimes you are just half-naked.
We never said you to walk totally naked. Sometimes you need to walk around half-naked in your room and make your significant other wild.
These intimate things pull your partner towards you and get more intimate physically.
Related Reading: 15 simple ways to satisfy your husband physically.
14. Sleep together at the same time.
Sleep together is essential but at the same time is more essential for a healthy relationship.
Doing some fun in bed before sleeping at night is a really wonderful and exciting way to connect with your partner.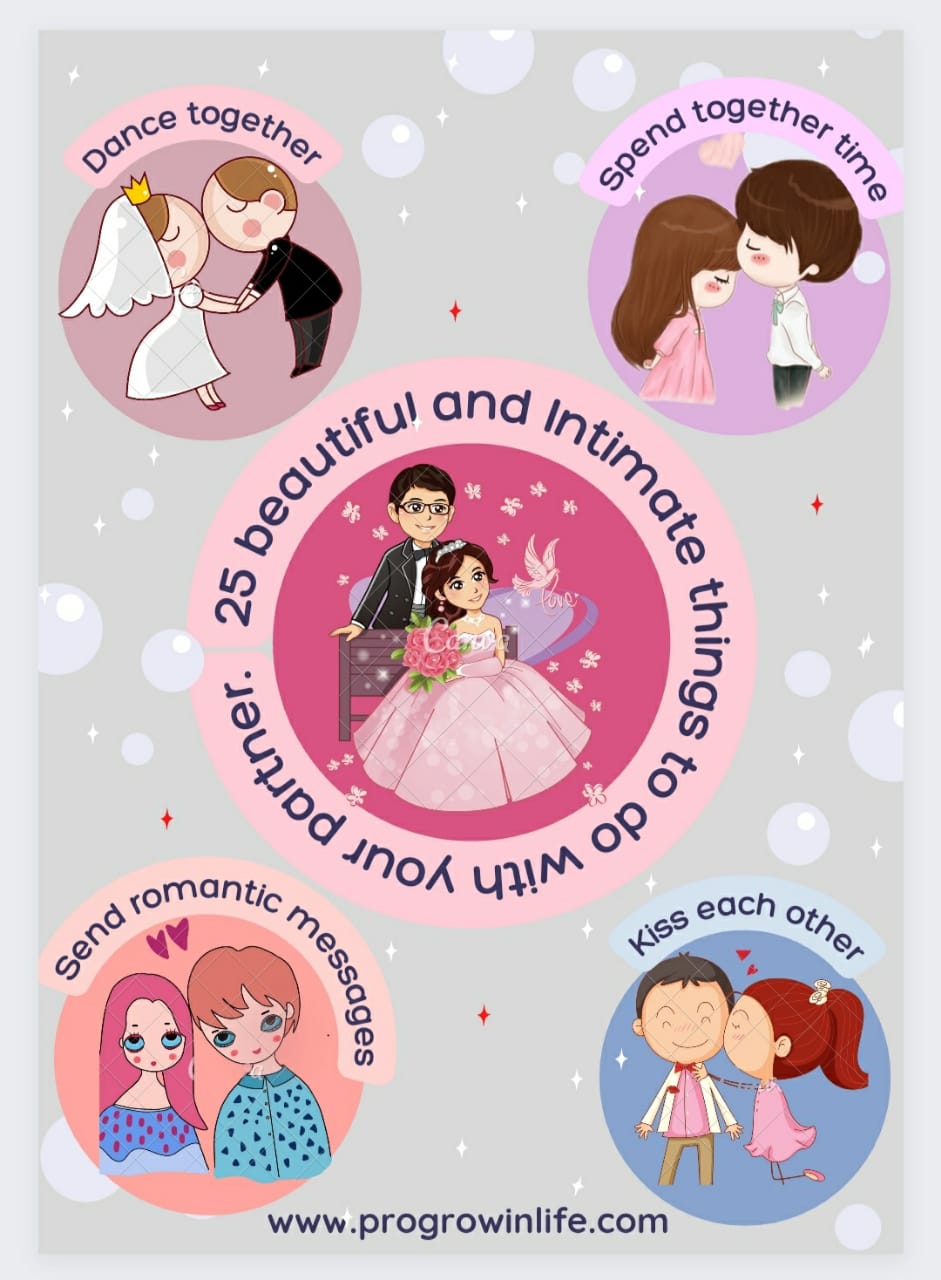 15. Compliments to your partner.
Everyone wants to hear compliments from their partner. So appreciate them by complementing their dress, body language, fitness, talking style, working effort, and personality.
When you do these things you get the outstanding result back i.e. they do many intimate things for you like gifts, flowers, take you shopping, etc.
16. Learn new things together.
What are intimate partners? A couple who enjoy each other's company and have the willingness to do everything for each other are intimate partners.
When you both like to do new things or learn new ideas together are the best couple in this world.
17. Give sweet kisses.
Kisses express your care, love, and affection toward your partner. So, kiss your love when you both are together. These are intimate activities for couples at home.
Kiss your mate's forehead and show them how much you care. Kiss her or his hands and show them you accept them. And give them a lip kiss, show them how much you love them.
Related Reading: 11 Simple ways to tell your partner you need more intimacy.
18. Give a tight hug to your partner.
Sometimes your feelings are not said in words. That time your sweet and tight hug said everything to your partner.
It boosts your intimacy level and these activities are the best intimate things for a healthy relationship. And you know that a hug is essential for both of you to feel relaxed and loved.
19. Sometimes say "thank you".
"Thank you" is not just a word but it is the thing by which you make your partner let know that you observe their little efforts and what they do for you.
So you said your partner whenever possible. This is not only a simple thing you do but it increases your intimacy level.
20. Stay connected with your partner on social media.
Nowadays everyone uses social media. So connecting with your partner on social media is not a big thing.
But staying connected and giving attention to your partner's activities and cheering them are most important.
Social media is the way you connect more with your partner and you both participate in couples groups where you both enjoy your free time.
21. When you are together don't use your phone.
Both of you can communicate with each other over the phone when you are apart but put the phone away when you are close.
And cherish your moment of solitude. Talk to your partner and do some intimate things and enjoy the moment.
22. Sometimes you just say "I love you".
" I love you" is the three magical words that express your feelings in front of your partner. If you feel shy to say this face to face then you can use your phone and send him or her "I love you".
So try to say these three words maximum times and your partner definitely answer you back.
Related Reading: 20 proven ways to have intimate with your partner.
23. Support each other.
Try to be your partner's backbone and always stand for her or him. Your support and encouragement make him or her feel proud because they have a partner like you.
Your supportive nature and the ability to stand by her/him are the best qualities and the intimate things that make your partner loves you so much.
24. Spend together time.
Spending together time is a positive part of a beautiful couple and a beautiful relationship. But you need to create time from your busy schedule for your partner and forget everything from your mind only remember one thing about your partner.
As much as possible spend together time and talk more, share your feelings, do new things, have fun together, and enjoy that moment.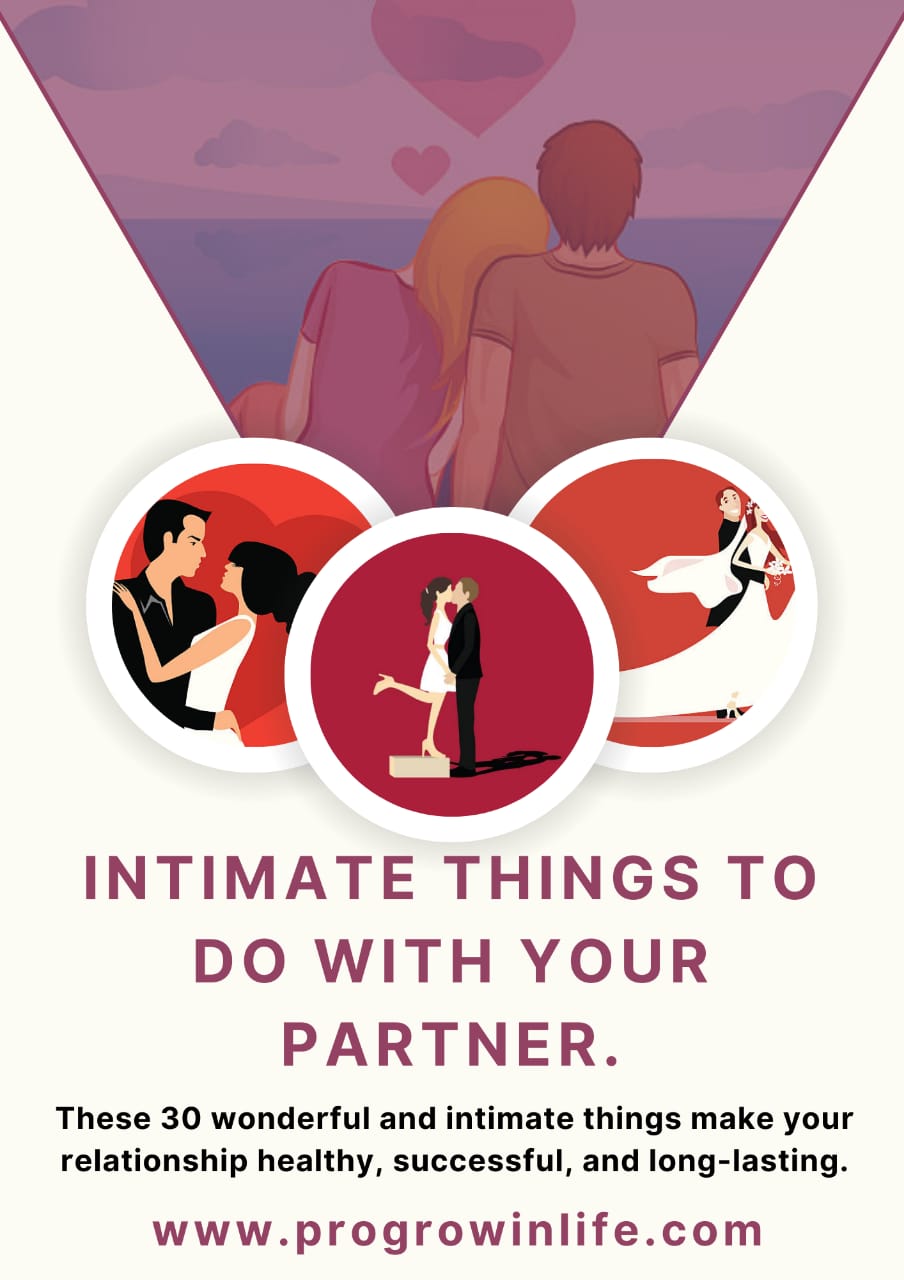 25. Go for a long drive or outing.
It's necessary to go somewhere with your partner and refresh your mind and create beautiful memories. And it is necessary to refresh yourself and your relationship from time to time.
Everyone is busy and works like a machine. So give yourself a break and live some moments for yourself. Give some time to your partner and make them happy.
26. Celebrate together.
Always look for the opportunity to celebrate with your partners like a birthday, anniversary, or congratulatory party for an achievement.
Celebrating little things with your love is more precious than anything else. These little intimate things make your partner happy and satisfied.
27. Cuddle with your partner.
Cuddling with your favorite person is so relaxing and makes your partner feel like the most comfortable place in this world.
These intimate things definitely give your partner heavenly feelings and they more connected with you.
28. Shower together.
When both live a busy life and there is no time for spending some time together or going on a date then showering together is the best option.
And this is mandatory for all. So shower together and help each other in cleaning. These intimate things are special and workable.
29. Use a nickname.
Your partner is always special to you. So call them by a unique and special name. And that special name only you can use.
Most people do that. These special ideas make your partner feel special. Give a sweet and cute name to your partner and call this name.
30. Always be honest.
Always being an honest partner for your soulmate is the top thing in a relationship. Being honest and trustworthy in a relationship automatically boosts your connection or bonding.
Without hesitation, your partner does all the intimate things with you and for you when they know that you are the best for them.
Bottom line from progrowinlife.
Doing intimate things with your partner is easy for some people and very difficult for others. The relationship is not the same for all. It's very from person to person. So their interaction and approaches are also different.
Some people are the very shy type and they never start any intimate things first and they expect all these things from their partner.
So, they face problems many times. I want to clarify one thing that doesn't feel so nervous or embarrassed to show your feelings or love to your partner.
Always waiting for your partner to start is not good for your relationship. So start doing intimate things from your side and am sure that you make your partner feel excited and delighted with you.
If you feel that this article is useful to you and you learn from it then leave your feedback in our comment box for appreciating us.
You also like to watch this video: 30 intimate things to do with your partner.
You also like to read:
Top 7 ways to overcome the fear of physical intimacy.
Top 10 dangerous physical intimacy issues that may affect your marriage.
FAQs (Frequently Asked Questions)
What is the most intimate thing a couple can do?
The most intimate thing a couple can do for a healthy and successful marriage are listed below.
1. Always feel comfortable with your partner.
2. Enjoy the together time.
3. Take your breakfast and dinner together.
4. Try to help each other.
5. Remember your partner's special dates.
6. Take care of your partner.
7. Share every little thing with your partner.
8. Gift them their favorite things.
9. Try to spend one-to-one time.
10. Go to bed at the same time.
11. Accept your partner for what he/she is.
What are intimate activities?
Everything that you do for your partner and his or her happiness is all intimate activities. But for your clarity, we listed some activities that bring a couple closer and most couples do these things in their relationship for heightening their bonding.
1. Cuddling.
2. Kissing.
3. Hugging.
4. Foreplay before S£X.
5. Holding hands.
6. Doing couple dance together
7. Go on a date.
8. Sending love texts.
9. Watching movies together.
10. Try new things in bed.
11. Learn more activities together.
12. Have fun together.
13. Do shopping for each other.
What are intimate partners?
An intimate partner means a person with whom you can maintain an intimate relationship both physically, emotionally, and spiritually and with whom you build a romantic relationship.
The definition of an intimate partner differs from relationship to relationship because there are different types of relationships.