Fear of physical intimacy in a marriage is not a matter to ignore. Because it is the only reason why two different people (male and female) come closer and gives the effort to build a romantic relationship.
In this world, every physically mature person has the desire to get intimate physically with their soulmate. But the word "fear" makes them away from their partner both physically and emotionally.
Some people have a real and strong fear of physical intimacy or romance. So we highly recommend them to read on to find out more about this fear of physical intimacy and also what might cause it and how to overcome this.
What is fear of physical intimacy?
Fear of physical intimacy is a "phobia" also known as "genophobia" or "erotophobia".
The exact meaning of genophobia is a person is more than simply disliking or fearing. And it's a condition that can induce intense fear when physical intimacy is attempted.
People with a fear of physical intimacy can have a fear of romantic intercourse or any other type of romantic behavior.
Another phobia (fear) that is sometimes related includes:
1. Tocophobia – fear of pregnancy and childbirth.
2. Coitophobia – fear of intercourse.
3. Haphephobia– fear of being touched.
4. Gymnophobia – fear of seeing people naked or being seen naked.
Related Reading: Top 10 physical intimacy issues may affect your marriage.
What causes fear of physical intimacy?
It is not easy to point out the exact cause of the phobia, particularly the fear of physical intimacy.
Fear of physical intimacy may be caused by several different factors, it may have to do with childhood trauma or physical conditions that may trigger fear of intimacy.
And in our medical science, there is no definitive fear of physical intimacy tests. So, it is better to find out what are the causes of fear of intimacy.
1. Intimacy anxiety disorder.
Intimacy anxiety disorder is also called intimacy anxiety disorder. It's an anxiety disorder that runs in families and tends to begin in childhood.
Environmental factors also play a role in disorder creation. It affects both males and females equally. After all, you must respect your partner.
The surprising thing is about 2.5 percent of the population have affected by the fear of intimacy.
2. Childhood trauma.
Childhood plays a pivotal role in the development and personality of everyone's life.
And when a person has experienced physical abuse or witnessed violence then the person becomes fearful of intimacy.
When the incident happened to someone, they lose trust. This affects the whole life of a person.
3. Fear of rejection.
Nowadays, the fear of rejection is the top reason why both men and women have a fear of physical intimacy.
It may start when a person experiences rejection in their family or saw this rejection from one of the parents.
It causes the fear to engage in any kind of relationship because he/she feels the pain of rejection. All these things make a person unhappy in his/her relationship.
4. Fear of abandonment.
Fear of abandonment can occur due to different circumstances or accidents that happen to the person.
One of those could be a childhood incident, such as a parent leaving, or own relationship breakup.
Whatever the reason it causes the fear of physical intimacy or becoming fearful of losing a close person.
5. Medical Condition.
Sometimes medical conditions are also a reason why a person has a fear of physical intimacy.
If a person has a problem that makes physical intimacy difficult or painful then the person definitely avoids romantic intimacy.
And one more thing is if the person has mentally unstable then he/she is not ready to be intimate with someone.
Related Reading: 10 different types of intimacy for a healthy relationship.
How do overcome the fear of physical intimacy?
There are many things you can do to help yourself to overcome the fear of physical intimacy and live a successful relationship.
Many people find these things helpful when dealing with the fear of physical intimacy, but bear in mind that some of them might not be right for you.
As a mature person, you could try these points and see the result.
1. Belief in yourself.
Becoming embarrassed or fearful of physical desires causes you to lose dreams and most of the time you feel loneliness in your relationship.
Sometimes, you may also lack the communication skills to express your feelings to those who love you.
It may be apparent, but valuing yourself and learning how to communicate and express your feelings assists you overcome your fear.
2. Consult with a Psychotherapist.
The psychotherapist must help you to speak about your past traumas and also assist you to find the basis of the problem.
It totally depends on whether you can have in-person therapy and discuss it with them physically or take help from psychotherapists via online counseling.
We are sure that it's always beneficial to discuss with a professional and they exactly know how to help you overcome your fear of intimacy.
3. Get to know your body.
You must know your own body better. And also you know what makes it feel good, what is your turn-on, and what improves your physical desire?
This can assist and support suppressing your fears, as you will realize more about what feels good for you and you have the power to save a failing marriage.
For better results, you can also try a guided meditation to assist you to relax and being in turn with how your body feels.
4. Discover the reasons.
You read the causes of fear of intimacy above. Have you had any experience or insecurity that could be the cause of your fear of intimacy?
And here you need to evaluate what seems to trigger your fears and maintain a record of how certain circumstances involving intimacy affect you. And then you save your relationship.
You know what, the better you understand your phobias, the sooner you can overcome them. So, focus on what is the reason behind your fear.
5. Find the person who knows your trauma.
If your fear of physical intimacy is due to your past trauma then make sure your life partner knows details about it and yes, make sure that they respect you or your feelings or not.
It's important to establish strong communication between you and your partner, and if you feel that there's anything that makes you feel uncomfortable, let them know your partner.
Having someone in your life whom you trust and openly communicate with them can make a big difference in recovering from past traumas and making sure you enjoy the romantic activity.
6. Dealing with insecurities.
If you feel like the reason for your fear is your insecurities then try to work on self-acceptance and self-love these are the signs of a mature person.
Not only will you feel more optimistic, but you may improve your strength and courage for a better life and try to be brave enough to deal with your insecurities.
If it's something beyond your control, encircle yourself with people who won't put you down for your insecurity.
By having an open line of communication, you both work together to make your relationship happy and you also feel more comfortable in physically intimate situations.
7. Practice self-compassion.
If you felt good talking to a friend and they said their past problem to you and about their fear of physical intimacy, then you'd readily accept who they are and what they've been through, right?
If possible try to show yourself the same care and compassion that you'd give your best friend and just make them your close friend list.
If you think that the person is good for you where you share your feelings, past incidents, pain, and suffering then without hesitation share with them.
Am sure you deserve that level of kindness. You can also do the things you like i.e. try relaxation strategies like yoga and meditation, and as much possible as avoid media triggers.
Related Reading: 10 Signs of fear of intimacy.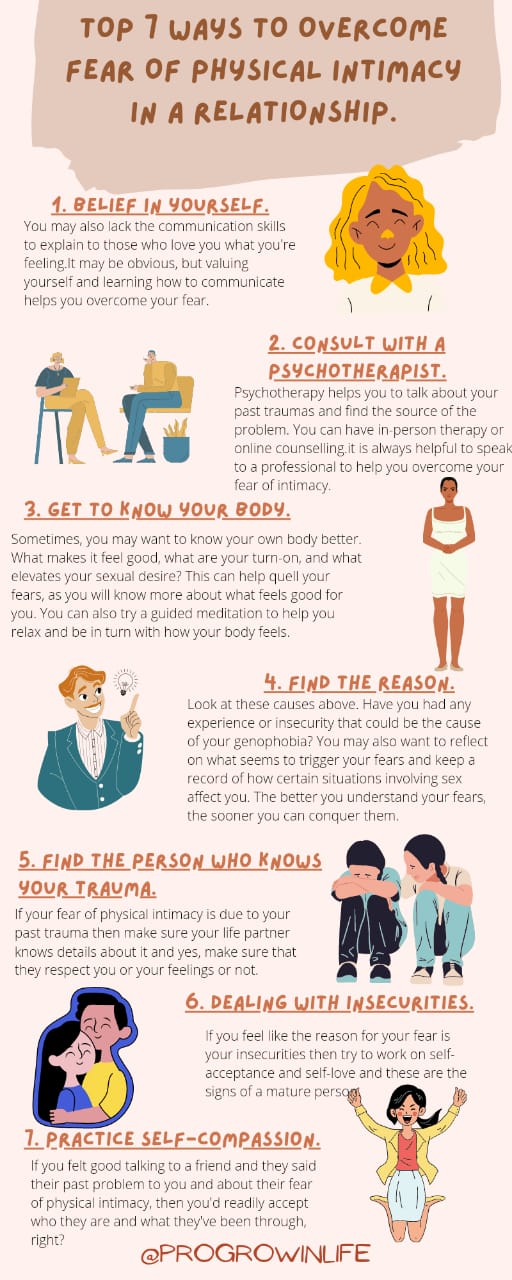 When do you take medical help?
Every person is unique and different from each other so they manage their problems in different ways.
Still, some people feel shy and find it difficult to get help for the fear of physical intimacy.
But they are unknown the impact of fear of physical intimacy on their relationships and lifestyle. It takes them to feel loneliness and depression in their relationship.
It may be very difficult to deal with a fear of intimacy on your own. So you must decide it's time to get professional help.
Your doctor will give you a proper assessment and suggestions and suitable treatment options.
You also like to watch this video:
Top 7 ways to overcome the fear of physical intimacy in a relationship.
Bottom line from Progrowinlife.
Every person has fear but the type of fear is different. Among every fear, the fear of physical intimacy is very dangerous.
The relationship has many problems but the fear of physical intimacy is hard to overcome for anyone.
If you have a real fear of physical intimacy then it seems like you'll not have a healthy romantic life.
Physical touches, love, and affection strengthen your relationship and also strengthen the couple's physical as well as mental health.
Once you overcome the fear of physical intimacy, you will be able to have physical encounters you'll enjoy.
You also like to read these articles:
15 Signs my wife is not physically attracted to me.
20 Warning Signs of a toxic marriage.
Top 15 warning signs of a toxic wife in a relationship.
FAQs (Frequently Asked Questions)
How do I get over my fear of intimacy?
First, you just think about the events that create the fear of intimacy and try to understand where your fear comes from.
Then value yourself,
communicate with your partner or the person you are closer to.
Can you overcome fear of intimacy?
Yes, you can overcome your fear of intimacy because it is a mental health disorder that can lead you to sabotage the relationship. But it takes time and patience.
What triggers fear of intimacy?
1. Abuse or neglect,
2. Medical problems,
3. Religious beliefs,
4. Fear of abandonment,
5. Fear of rejection.
Why am I so afraid of physical intimacy?
It's normal to afraid of physical intimacy. But more than the limit is harmful to you and your relationship.
You are afraid because of your personality disorder or childhood trauma or past worst experience.
How do I become more comfortable with physical intimacy?
1. Focus on foreplay,
2. Make eye contact,
3. Be open to pleasure,
4. Permit yourself to ask for what you want,
5. Let the encouragement flow,
6. Set aside the time.