For new couples, it's very hard to increase intimacy in their relationship but strengthening intimacy is your first and foremost duty.
Intimacy is the best ingredient for making your relationship happy, healthy, and long-term. There are many types of intimacy that play vital roles in a relationship.
Relationship intimacy compels a solid emotional, physical, and spiritual connection with your partner.
When a relationship or marriage lacks intimacy, it can be so hard to strengthen. So you always need to learn how to increase intimacy in a relationship.
But if you feel that a level of connection between you and your partner is lacking, it can lead to feelings of resentment and loneliness in your relationship.
When you feel emotionally intimate with your partner, it increases your overall well-being.
Now, If you feel that the intimacy with your partner isn't at the level that you want it to be, then read these 15 ways to increase intimacy in your relationship.
15 easy ways to increase intimacy.
Intimacy is the sense or feeling of being housed in the presence of your partner. Or it may be an increased feeling or sense of relaxation and happiness when you see your loved one's face after a few hours of duration.
So it's necessary to increase intimacy in a relationship and live a happy and healthy lifestyle with your soulmate.
There are several things or ways that you can do to build a strong connection and deeper intimacy with your partner.
But you are looking for simple and easy ways to increase intimacy in your marriage or relationship. Here are 15 easy ways to increase intimacy.
Try new things together.
Every person feels safe and comfortable following their routine because you know what is going to happen next and what to expect from others.
But this scheduled life provides you with a level of security. So it's better to try new things together and make your relationship interesting.
Stepping out of your routine or comfort zone and trying to do something new can be exciting and energizing. And it doesn't matter what you both are doing.
When you try to do something new together the excitement created by the experience can build stimulation and connection that can assist you to increase intimacy.
You both touch each other.
Physical touches or contact helps you both to stay connected with each other and it is not a sense or feeling but it expresses millions of words.
For a healthy and successful relationship, touches are an essential component because it develops a sense of love, affection, and excitement.
In addition, physical touches are helpful for your health care like decreasing your blood pressure and increasing oxytocin hormone for romance.
So touch each other when possible. And in the bedroom, you are comfortable touching your partner. Hold your partner's hand when going outside, cross the legs when sitting together, and hug them. All these things increase intimacy in your relationship.
Related Reading: 30 wonderful and intimate things to do with your partner.
Try to connect emotionally.
Staying connected with your soulmate throughout the day is important because it increases intimacy in your bonding.
Sending messages, voice calls, and video calling to your partner and letting them know how much you miss them and what are you doing the whole day.
When you feel that you build a strong connection with your partner, you increase the intimacy level in your relationship.
Emotional connectivity is the most important thing to consider for a long-lasting relationship because it increases trust, understanding, beliefs, and so many things.
Show appreciation and encouragement.
"Thank you" and "please" are the words that take your relationship a long run and help you to live a satisfying coupled life.
These words make your partner feel appreciated and if the same thing your partner does for you then your household runs smoothly.
Be specific and honest with your appreciation. Give compliments to your partner freely and let them know what you like most bout them.
The simple act of appreciation and encouragement can help you both feel more supported and respected by the other. These acts increase intimacy and strengthen your bonding.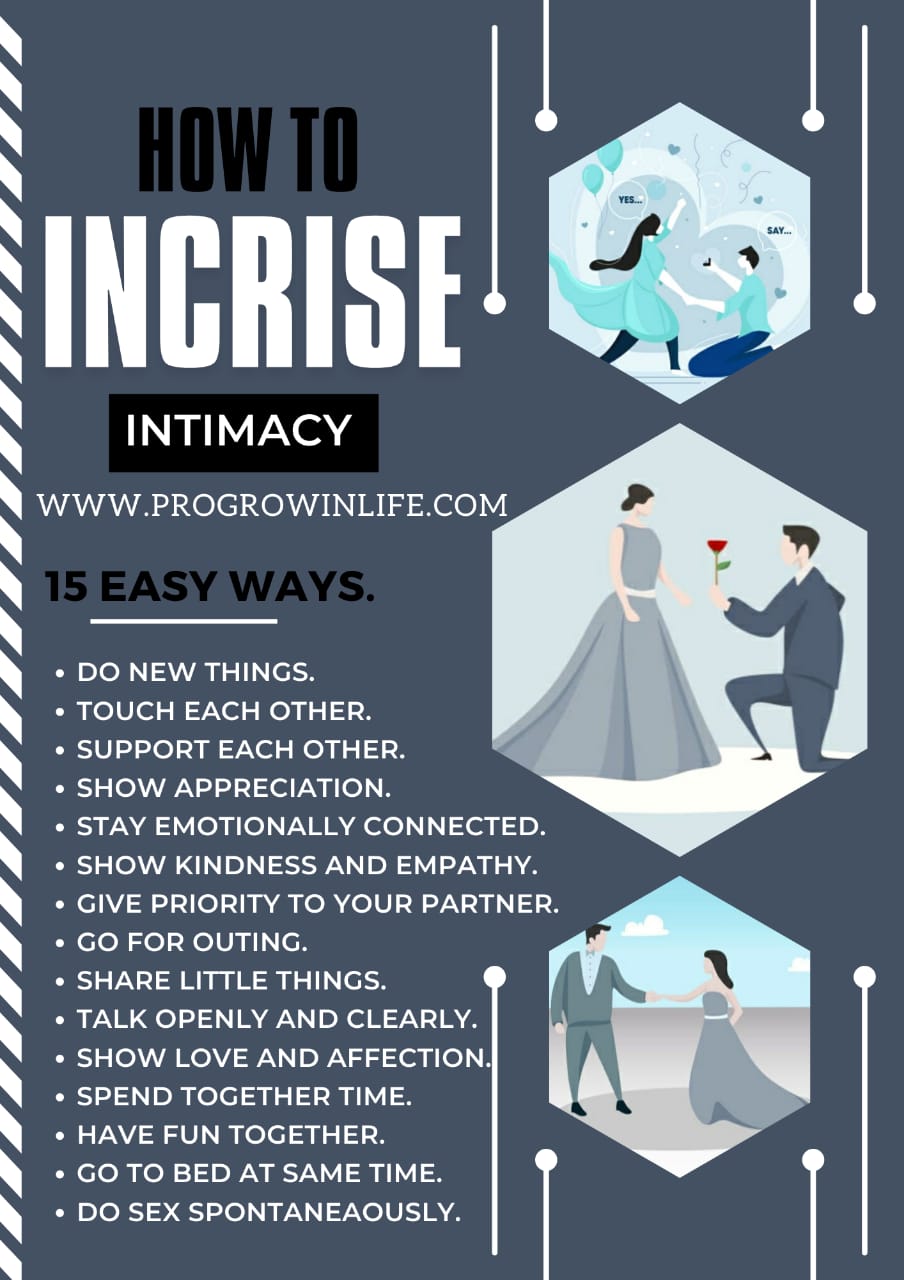 Go for an outing.
It's essential to make some time for yourself, your partner, and your relationship. Go for an outing with your partner and increase intimacy.
Enjoy that different environment with your partner and the main focus is your partner. Do what you both want to do forget everything and go close to your love.
Because when you are at home there are lots of distractions from work, household responsibilities, children, and other family members. So chill and enjoy.
Without all of the outside interference, you can focus on increasing intimacy, enjoying each other, and having fun together.
Show kindness and empathy.
Kindness and empathy are the signs of intimacy in a relationship because it carries gentleness, love, care, and affection.
So it somehow helps couples to increase intimacy in their relationship. And these things also support you both to share your feelings and fantasies freely.
You have the chance to increase intimacy in your relationship when you and your partner can be vulnerable with each other and understand each other.
Your kindness and empathy always make your partner feel accepted and understood. So it ultimately helps you to increase intimacy.
Related Reading: 16 easy ways to communicate better with your spouse.
Support your partner.
A person is lucky who have a supporting partner because they know that their partner is there when they need it.
If your spouse asks you for help, let them know what you can do for them and what cannot do. But always there for them.
Try to be a good listener for your soulmate and repeat back what you hear them say so they feel heard.
Sometimes each person needs a partner for support and help, especially a person to stand by him or her.
If you are the first person who is ready to give help and support to your partner then you are always special to him/her.
When your mate discusses something with you, it's necessary to give your undivided attention. So put down your phone and focus on their words.
When your partner feels like you are for them when they need you most then it can strengthen your couple's connection and increase intimacy.
Spend together time.
Spending some time with your partner is so much more difficult for you because of your busy schedule. But it is necessary for you to know how to increase intimacy time.
You both sit down and discuss your interest, experience, incidents, events, memorable moments, future plans and so many things.
But you both actively listen to your partner when discussing your thoughts. Take that seriously and answer positively. Then you both are able to. increase intimacy in your relationship.
Ald you also do this for spending time together at the night. Discuss whatever you want including your children, duties, daily routines, and most importantly your past experiences.
Share little things.
We all know that sharing means caring. But every person needs a safe and secure place to share their feelings and emotions.
If we discuss unmarried or married couples then they also feel uncomfortable sharing their feelings, worries, fears, and excitement at first.
But when they feel that their partner is trustworthy and that is the best place to share every little thing then they avoid uncomfortable conditions and share.
So you need to create that safe place in your relationship where your partner feels secure to share.
And the plus point is you first start to share and then wait for their turn. This is the best way to increase intimacy.
Give first priority to your partner.
Your partner is always your first priority. If you are married then your husband or wife is your priority and responsibility.
So try to put them first and yours second. Try to know what they exactly want from you and your relationship.
Focus on their needs, likes, dislikes, interest, goals, wants, and everything that makes them happy and comfortable with you.
Because of your priority, preference makes your bonding stronger and ultimately helps to increase intimacy in your relationship.
Related Reading: 10 different types of intimacy for a healthy relationship.
Talk openly and clearly.
Fix a schedule for spending time with your love and talking to each other. Discuss what comes to your mind. Some people are the shy type, so they are not very much open with others.
If your partner is not like that I mean not a shy person then you have no problem talking openly and clearly.
When you both talk openly and clearly and you say what you want from your partner then there are no big issues between you two.
So clarity is essential. And share the thing that always disturbs you or you exactly do not like in your relationships. It helps you to increase intimacy.
Show love and affection.
Love is a sweet feeling. The most important is love and respect and related to each other. And these two elements are the foundation of a beautiful relationship.
Love has the power to bind two different people for a long time. But sometimes it's essential to show your partner how much you love them.
Do the work your partner loves most like cooking their favorite dish, playing their liking music, and so many things you do for your partner.
Sometimes your work and body language show your partner how much you love them. So it's necessary to increase intimacy with the help of your love and affection.
Have fun together.
Life without fun is so boring. So never let go of your childhood with the flow of time and age.
For a happy and healthy life, you need to spend some fun moments with your partner. Laugh together. Just play with each other.
When you are both together do some interesting things or go somewhere and spend romantic moments and cuddle with your partner.
Fun and games are necessary to increase intimacy in your relationship. So do it, feel it, and enjoy it with your soulmate.
Stay loyal and honest.
Honesty is so much more expensive and the most important element for a healthy and happy relationship. So many people never afford this.
You need to stay loyal in the absence of your partner. So that you feel satisfied with your relationship and concentrate only on your partner's happiness.
Honesty is the secret key to building a successful relationship. This nature is make your bonding stronger. And expecting the same thing from your partner is natural.
But let your partner free and give them time to do their turn. And gradually increase intimacy in your relationship.
Related Reading: Top 10 dangerous physical intimacy issues may affect your relationship.
Romance is a priority.
Make physical intimacy or romance a priority in your relationship. If it is not on a schedule, your relationship looks unromantic.
It is easier to go without romance because the only thing in your mind is sleep and you haven't the habit of doing it.
If it is a part of your routine then physical intimacy is the most important part of your relationship.
If you think that physical intimacy is a priority then it allows you to increase intimacy in your relationship.
You also like to watch this video: 15 easy ways to increase intimacy.
Bottom line from progrowinlife.
I hope this article "15 easy ways to increase intimacy" is helpful for you to build a healthy and strong connection with your partner for a happy relationship.
Increasing intimacy level is not easy work that you can easily do and make your relationship a successful one.
When you give priority to both emotional and physical intimacy then you find the result. And if you follow the above tips, you definitely feel the improvement in your relationship.
After trying all these tips if you never feel any improvement then you need to consult a relationship and family counselor. For better results, you both go in contact together and learn new things about your relationship.
You also like to read these articles.
15 sure-shot signs of a healthy marriage.
20 good signs he's husband material.
FAQs (Frequently Asked Questions).
What builds intimacy?
Your expression, body language, talking style, thoughts, being vulnerable, attitude and personality shows other person how you feel and what you feel inside.
But the most important thing is your loyalty, patience and openly share what you thought. Some time and effort to connect with that particular person.
What are the 4 types of intimacy?
There are many different types of intimacy in any relationship. But for a healthy, happy and lang-lasting relationship you need to work on all types of intimacy.
List of intimacy in a relationship.
1. Emotional intimacy.
2. Physical intimacy.
3. Spiritual intimacy.
4. Intellectual intimacy.
5. Mental intimacy.
6. Experimental intimacy.
7. S3xual intimacy.
8. Creative intimacy.
9. Aesthetic intimacy.
10. Recreational intimacy.
How to increase intimacy in a long-distance relationship?
Living in a long-distance relationship is very hard. And making relationship more strong is also very difficult task for long-distance couples.
So we make your work easy by providing these valuable tips to you for increasing intimacy in your relationship.
A schedule calling.
Send your photos.
Visit each other.
Daily video calling.
Respect the reason why you stay separate.
Set an intimacy goal.
Fantasies.
Connect on social media.
Talk deeply.
Share your feelings.
Willingness to meet your partner.
Darty chat with your partner.
Avoid excessive communication.
Make your partner feel that you are there.
How to build intimacy with a man.
Building intimacy is not a simple and quick procedure that you can build over night.
You need to keep patience.
There are 10 easy ways to follow for building intimacy with a man.
Do something physical together.
Touch him frequently.
Give tight hugs.
Try something new with him.
Do S£X with him.
To be a good listener.
Understand him.
Support and help him.
Give compliments.
Always available for him emotionally.